| | |
| --- | --- |
| 800.494.4321 | Faux Plantation Shutters |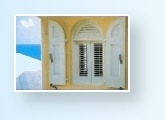 Home
Exterior Shutters
Interior Shutters
Shutter Styles
Faux Plantation Shutters

Measuring for Shutters
Shutter Hardware
Closet Doors
Interior Doors

Full Product Line
Contact Us
800.494.4321

Custom Sized
Faux Plantation Shutters!


---
Some blog posts
you may find helpful
Interior & Exterior Faux Plantation Shutters
Made to fit vs. Make it fit
What size Louver blade should you use?






Faux Plantation Shutters... with a 25 Year Warranty




Virtually Indestructible

Made from a proprietary, exterior grade, closed cell PVC our Faux Plantation Shutters will not warp, fade, crack or peel.

GreenGuard® Certified

Our Faux Plantation Shutters have been successfully tested for microbial resistance and indoor air quality by the Greenguard Enviromental Institute (GEI). This approval makes them ideal for healthcare, hospitality and educational institutes.

Easy Cleaning

Since they are non-porous and waterproof they can easily be cleaned with soap and water.

Fire Retarant

Our Faux Plantation Shutters meet and exceed the NFPA-701 flammability testing for commercial and hospitality applications.

Energy Efficient

With a hollow design providing an excellant insulation barrier our Faux Plantation Shutters have a Solar Heat Gain Coefficient (SHGC) of 0.09.

UV Protective

With the color milled right in to the material itself, and a UV stabilizer, our Faux Plantation Shutters are guaranteed not to yellow or fade.
What's Included
Free Freight
within the continental USA
Choice of Color
Cotton, Pearl, Vanilla and Sandstone
Choice of Louver Blade Size
2.1/2", 3.1/2" or 4.1/2" (4.1/2" not available in Vanilla)
Choice of Operation
Tilt Bar or Clearview (Hidden Tilt Bar)
Choice of Framing
For Inside Mount - Z Frame, L Frame, Trim, Deluxe Trim or Mounting Strips
For Outside Mount - L Frame, Casing Frame or Mounting Strips
Choice of Hinges
Color coordinated hinges pre-attached, polished hinges or stainless steel hinges
Choice of Divider Rails
Standard or Deluxe
Installation Hardware
Screws, Button Plugs, Panel Lock Ramps or Magnets (panel locks standard with 4 sided frames)
var $_Tawk_API={},$_Tawk_LoadStart=new Date(); (function(){ var s1=document.createElement("script"),s0=document.getElementsByTagName("script")[0]; s1.async=true; s1.src='https://embed.tawk.to/536306fa0d450ea727000652/default'; s1.charset='UTF-8'; s1.setAttribute('crossorigin','*'); s0.parentNode.insertBefore(s1,s0); })();