| | |
| --- | --- |
| 800.494.4321 | Kestrel Bifold Doors |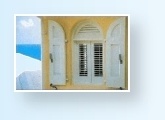 Home
Closet Doors
Interior Doors
Exterior Shutters
Interior Shutters

Contact Us
800.494.4321

Custom Sized
Bifold Doors!




---
Some blog posts
you may find helpful
Which Hardwarae is Best for Your Bifold Doors?
Should I go with bifold or sliding closet doors?
Bifold Doors or Sliding Closet Doors; Which Cost Less
Do I need a Bottom Track for my closet door hardware?
Choosing a Closet Door Style
---
Custom Sized - Bifold Doors


Custom Sized !
All Kestrel Interior Doors can be used as bifold doors.
You can use any style of kestrel door as bifold doors. Simply choose the style for your interior doors (louvered, panel, mirrored, fabric, tongue & groove or custom door designs ) and then add our bifold door hardware to get the closet doors you want.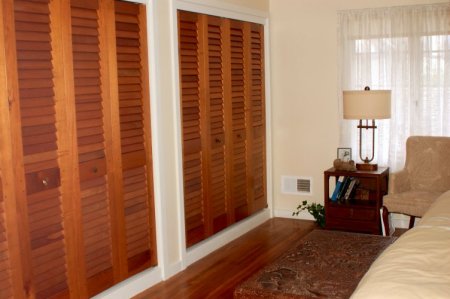 The advantage of Bifold Doors
Bifold doors offer one of the simplest ways to access as much of your closets as possible without having to move furniture. Bifold doors will fold back to back making it easier to get into your closet, or even another room. This means you can see everything you have in your closets without sliding doors back and forth.
Why Kestrel Bifold Doors?
Kestrel bifold doors out perform any other bifold door on the market today. Our custom sized bifold doors are all hand built from solid, premium hardwoods like Basswood, Spanish Cedar and Mahogany. The only joinery method we use is the traditional pegged, mortise and tenon joint. We also offer the most diverse line of bifold doors with styles including louvered doors, raised, flat and recessed panels, mirrors, glass, fabric, beadboard, tongue and groove as well as board and batten.
FAQ for Bifold Doors
What are bifold doors?
When 2 doors are hinged together so that when they are opened they fold against each other they are considered bifold doors.
What styles of doors can be used with bifold door hardware?
Every style of kestrel door can be mounted as bifold doors.
Can I mix and match different styles of doors within an opening
Yes! You can mix and match as many styles as you like and still hang them as bifold doors. A very popular combination is to use one of our mirror closet door styles for the center doors and full louvered doors, panel, beadboard or tongue and groove for the outer doors.
What is the largest door I can have with bifold door hardware?
Our standard bifold door hardware will handle individual doors that are 24" wide by 108" tall. We also offer heavy duty hardware that will handle individual doors up to 48" wide by 108" tall.
How many individual doors can I have in a bifold door opening?
Bifold doors can only be mounted in pairs. Standard bifold hardware will handle 2 individual doors in each direction for a total of 4 individual doors. We also offer multifold hardware that will handle a maximum of 6 individual doors in each direction for a total of 12 individual doors.
Will the bifold door hardware damage my floors?
The standard bifold door hardware we offer, Johnson Hardware 111FD series, has a bottom pivot that mounts to your door jamb instead of the floor so that it will not damage your floors. Other hardware that we offer, Johnson Hardware 100 and 200 series, will mount in to your floor.
Can bifold doors fall out of the tracks?
The only bifold track hardware we offer comes with tricycle wheel hangers that are enclosed within the track so that they can not come out by accident.
Can I reuse my exisiting bifold door hardware?
Even if the hardware you currently have is in good condition we strongly recommend purchasing new bifold door track hardware. Older track may no longer be safe and it may not be strong enough to hold our solid wood bifold doors.