| | |
| --- | --- |
| 800.494.4321 | Kestrel - Measuring for Interior Shutters & Exterior Shutters |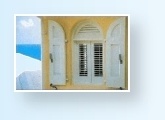 Home
Exterior Shutters
Interior Shutters
Shutter Hardware
Closet Doors
Interior Doors

Contact Us
800.494.4321

Custom Sized
Shutters!




---
Some blog posts
you may find helpful
Made to fit vs. Make it fit
What size louver blade
should I use?
Finding the correct
hinge offset
Where do I measure for my interior shutters and exterior shutters?


Typically both interior and exterior shutters are mounted within the Window opening. This is referred to as an inside mount. For inside mounted shutters you would measure between the side window jambs/casings for the width and from the inside edge of the top jamb/casing to the sill/floor for the height.

When there is not enough depth for the shutters or you wish the shutters to cover over the entire opening, trim work and all, you would use an outside mount. For outside mounted shutters you would measure the distance between the outer edges of the side trim for the width and from the top of the top trim to the sill/floor for the height.

Outside mounted shutters will require a separate piece of wood from which to hang the shutters. This must be properly mounted into a wall stud to ensure that it will hold the weight of the shutters.

Inside Mount

Outside Mount

How do I know if my window is deep enough for an inside mount ?

Use the following guide to determine the window depth you need.

Raised / Flat / Recessed panel shutters - 1.3/8" depth
Tongue & Groove, Beadboard, Glass/Mirror or Fabric
Board and Batten for inside mount - 2.1/8" / for outside mount - 7/8"
Fixed louver shutters - 1.3/8" depth.
1.7/8" Traditional operable louver shutters - 1.3/4" depth.
2.1/2" Plantation operable louver shutters - 2" depth
3.1/2" California/Contemporary operable louver shutters - 2.7/8" depth

If your window does not have this depth you will most likely need to go with an outside mount installation. Please note that the above depth allowances take into consideration that the standard thickness of all Kestrel shutters is 1.1/4". Thicker shutters measuring 1.3/4" and thinner shutters measuring 13/16" thick are also available. Thinner shutters are typically used for cabinet doors and for older homes where the shutters sat within wall pockets.

What if my windows are not square ?

It is always a good idea to measure each opening in more than one place so as to make sure that the opening is square. If the opening is not square you have a few options:

Order shutters to fit the largest size of the opening and then trim down the edges to match the window.
Mount strips of wood to the inside of the window frame. These strips should be tapered to compensate for the window frame being out of square. The shutters can then be mounted to these strips.
Order shutters for the smaller size to avoid any trimming. This will result in some light seeping in through the gaps where the opening is larger. Small wooden strips can be tacked to the inside of your opening, just behind the shutters, to prevent this. Having an overlap rabbet where the shutters meet will also keep light out.

How many shutters should there be in each opening?

As all windows are a different size we do not make stock shutters. Every shutter is made for a specific opening for each individual order. This means our shutters are custom sized and this allows you to have any number of individual shutters within an opening that you would like. Here are a few things to consider when determining how many shutters to place within an opening:

Does the window open? If not, you will most likely not have reason to open the shutter frame often except to wash the window glass. This would be a reason to go with as few shutters as possible. This will maximize visibility and minimize costs.
If the window opens, and you plan to open it fairly often, how much clearance do you have between the window and furniture? This will help to determine the maximum size of the individual shutters. From this you can figure how many shutter to order for the opening.
The narrower the shutter the less visibility you will have. Keep in mind that where two shutters meet you will have two stiles (vertical frame members) blocking out any light and airflow.
Just because the other windows in the room have two shutters each does not mean that every window has to have two shutters. Try maintaining the same size shutter throughout the room.
If the best size for your opening means having an odd number of shutters this does not need to be a problem. If you have only a single opening in a particular wall the number of shutter will not look strange as there is nothing else to compare it to. If there is more than one opening in the wall try being symmetrical with the shutters in regards to how you hinge each one.
If you can not make up your mind what looks best try cutting pieces of paper or cardboard to represent each shutter within the opening. By placing these cutouts within the opening you will get a better feel for the final picture.