| | |
| --- | --- |
| 800.494.4321 | Options for Kestrel Window Shutters |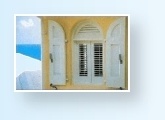 Home
Exterior Shutters
Interior Shutters
Measuring for Shutters
Shutter Hardware
Closet Doors
Interior Doors

Contact Us
800.494.4321




---
Some blog posts
you may find helpful
Made to fit vs. Make it fit
How to choose a wood shutter
What size louver blade
should I use?
Shutter Thickness

13/16"
1.1/4" (standard for interior and exterior)
1.3/4"
Custom

Finishing

We offer our shutters unfinished as well as primed, painted and stained. Custom color matching is available on paint and stain finishes as is tinted priming.

Wood Species

Basswood (standard on interior shutters)
Spanish Cedar (standard on exterior shutters)
Honduran Mahogany
African Mahogany
Pattern Grade Mahogany
Knotty Alder
Hard Maple
Soft Maple
Cherry
Red Oak
White Oak
Bald Cypress

Combination Shutters

Most of our louvered and panel shutter styles can be combined with each other to make a shutter. Typical combinations are operable louvers over raised panel, fixed louver over raised panels and fixed louver over operable louvers.

Custom Stile & Rail Dimensions

We are able to build both interior shutters and exterior shutters to your specifications should you need specific stile and rail dimension.

Center Stiles

Both Kestrel interior shutters and exterior shutters can be made with one or more center stiles. On window shutters over 30" wide we recommend a center stile.

Custom Rail Location

We offer several frame layouts with the center rail (lock rail) at different locations. We can place the rail at most any location or remove it entirely.

Arch Top Window Shutters

All of our window shutters are available with arched tops. We build half round, quarter round, eyebrow and gothic as well as triangular.

Overlap Rabbeting

We offer both a square overlap as well as a beaded overlap rabbet. Exterior shutters will have the bead on the same stile as the overlap rabbet. Interior shutters will have the bead on the same stile as the overlap rabbet as well as the stile without the overlap rabbet. Custom rabbets and beading are also available.

Horns

We can provide horns on the bottom of your shutters to any custom size. Shutter horns are most often found in original shutters of the Northeastern US states.

Exterior Shutter Hardware

Complete the look of your Kestrel Shutters with the widest range of shutter hardware available anywhere. We offer strap hinges, mortised hinges, shutter dogs, ring pulls and slide bolts

Sill Bevel

Should you require the bottom of your shutters to be beveled to match your window sill please let us know. We offer a 10° angle as standard.

Options for Louvered Shutters

Louver Width

2.1/2" Plantation louvers
1.7/8" Traditional louvers
3.1/2" Californian louvers
1.1/4" louvers
Custom

Louver Profile

Flat with rounded edges (standard)
Tapered
Trapezoidal
Chevron (false louvers)
Custom

Louver Type

Fixed louvers
Fixed louvers with False Tilt Bars
Operable louvers
False louvers
Vertical louvers are available for each of the above louver types

Options for Panel Shutters

Panel Profile

Colonial Raised Panel (standard)
Flat Panel w/ trim
Traditional Raised Panel w/out trim
Traditional Raised Panel w/ trim on the reverse
Recessed Philadelphia Federal Panel
Tongue and Groove (V groove on both front and back)
Beadboard (Bead on both front and back)
Custom
Double sided panels are available on most styles

Panel Cutouts

We offer several standard panel cutout designs or we can match your own designs. Etched patterns and monograms are also available.

Tongue & Groove Direction

Vertical (standard)
45 degrees one direction
45 degree Herringbone
Custom

Options for Board and Batten Shutters

Vertical Board Widths

There is no standard board size on our board and batten shutters. We custom size the vertical boards so that they are proportional and to meet your needs.

Horizontal Batten Direction

Horizontal (standard)
Diagonal Z batten

Breadboard Top

A breadboard top comes standard on our European Board and Batten shutters but it is also available on the bottom edge.

Cutouts

One of our standard European Board and Batten shutters comes with rows of diamond cutouts. Other cutout designs are available as well.