| | |
| --- | --- |
| 800.494.4321 | Cedar Bahama Shutters |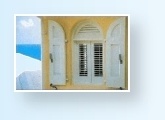 Home
Exterior Shutters
Interior Shutters
Measuring for Shutters
Shutter Hardware
Closet Doors
Interior Doors

Contact Us
800.494.4321

Custom Sized
Plantation Shutters!




---
Some blog posts
you may find helpful
How to choose a wood shutter
Defining Mortise and Tenon Joinery
What's wrong with how these shutters were installed?

These oversized bahama shutters serve a dual purpose on this Barnes & Noble store. On the inside they are funtional, blocking the glare from the sun so browsers of this book seller are comfortable. On the outisde they are decorative and, combined with the stone fountain, they give the courtyard the look of an Italian Piazza.
Shutter Style :
AKE 2010
Exterior Bahama Shutters with Center Stile and Fixed Plantation Louvers
Material :
Sapele Mahogany
Location :
Fallbrook, CA
Custom Sized to your specifications
Standard wood species used are Sapele Mahogany and Basswood
Available as both Exterior Shutters and Interior Shutters
Made by Kestrel Shutters and Doors