| | |
| --- | --- |
| 800.494.4321 | Valley Forge Park Exterior Shutters |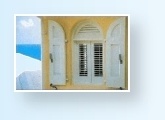 Home
Exterior Shutters
Interior Shutters
Measuring for Shutters
Shutter Hardware
Closet Doors
Interior Doors

Contact Us
800.494.4321

Custom Sized
Plantation Shutters!




---
Some blog posts
you may find helpful
How to choose a wood shutter
What exterior shutter hardware do I really need?
Choosing the Correct Hinges for your Exterior Shutters

When it was time for replacing the exterior shutters at the General Maxwell Headquarters in Velley Forge National Park, Kestrel Shutters was the company chosen. New shutters were built to match what was left of the exisiting shutters. From matching the original trim work around the raised panels to the profile of the louver blades to the custom dimensions for all of the individual parts that make up exterior shutters, everything was reproduced. In addition to the shutters we provided all new strap hinges with custom offsets to match the irregularities found in 250 year old stone work.
Shutter Style :
AKE 2000 SP & 3000 SP
Custom Fixed Louvered and Raised Panel Exterior Shutters
Material :
Sapele Mahogany
Location :
General Maxwell's Headquarters at Valley Forge National Park, PA
Custom Sized to your specifications
Standard wood species used are Sapele Mahogany and Basswood
Available as both Exterior Shutters and Interior Shutters
Made by Kestrel Shutters and Doors