| | |
| --- | --- |
| 800.494.4321 | White Oak Plantation Shutters |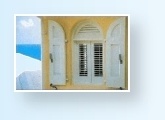 Home
Exterior Shutters
Interior Shutters
Measuring for Shutters
Shutter Hardware
Closet Doors
Interior Doors

Contact Us
800.494.4321

Custom Sized
Plantation Shutters!




---
Some blog posts
you may find helpful
How to choose a wood shutter
Made to fit vs. Make it fit
What size Louver blade should you use?

Kestrel interior shutters can be found not only on land, but on the high seas as well. When a new European cruise ship was being outfitted, Kestrel was chosen to build white oak Plantation shutters to compliment several luxurious lobbies. In addition to the Plantation shutters we milled custom frames to complete the shutters.
Shutter Style :
AKI 1010 Tapered
Interior Plantation Shutters with optional Tapered Louvers
Material :
White Oak
Location :
Piraeus, Greece
Custom Sized to your specifications
Standard wood species used are Sapele Mahogany and Basswood
Available as both Exterior Shutters and Interior Shutters
Made by Kestrel Shutters and Doors