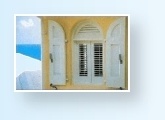 Home
Interior Doors
Interior Door Hinges
Exterior Shutters
Interior Shutters

Contact Us
800.494.4321




---
Some blog posts
you may find helpful
Should I go with bifold or sliding closet doors?
Do I need a Bottom Track for my closet door hardware?
Bifold Doors or Sliding Closet Doors; Which Cost Less
Choosing a Closet Door Style
How Thick Should My Interior Doors and Closet Doors Be Made?
Glass Inserts for Custom Interior Doors
---


Applications
Closet Doors - Louvered doors and fabric doors are well suited to closets as they help provide ventilation so that your clothes and stored items do not become musty. Where ventilation is not a concern we also offer panel, tongue & groove and bead board doors. Mix and match desgins with mirrors to achieve even greater functionality.


Laundry Room Doors - Our combination louver over tongue & groove doors (style 6161, 6162 and 6163) are ideal for laundry room doors. 12" of louvers at the top provide enough air flow to keep heat and moisture down while the solid tongeu & groove below reduce sound."


Cabinet Doors - Kestrel doors can be scaled in size to give your kitchen a whole new look while matching your Kestrel closet and interior doors.


Bathroom Doors - We offer doors with true louvers, that allow air flow, as well as bathroom doors with false louvers, panels and tongue & groove that provide more privacy. Where a high humidity is a concern we can build your bathroom doors out of Sapele Mahogany.


Interior Doors - Louvered interior doors can allow free air flow through out your home resulting in better distribution during heating and cooling. For more privacy and insulating value consider our panel doors, tongue & Groove doors and bead board doors. For a more unique look combine any style with your own colored or frosted glass.


Cabana Doors - For exterior applications where you need ventilation, such as cabanas, outdoor showers and changing rooms we offer louvered doors built from Sapele Mahogany. Panel and Tongue & Groove designs work better where security and noise reduction are needed.


Wardrobe Doors - Retrofit that old wardrobe or book shelf with a new pair of Kestrel louvered Doors and give your room a whole new look.


Shower Stall Doors - Whether it is a bathroom shower or an outdoor shower a louvered door will help reduce moisture buildup and still provide privacy. We offer our shower stall doors made in Sapele Mahogany.


Utility Room Doors - Certain appliances, such as furnaces and wine coolers, require a minimum amount of airflow. If this air flow is not met the motor can overheat and fail. Just let us know your requirements and we will suggest the louvered door designs that will meet your needs. Where soundproofing is a concern, such as with laundry and utility rooms, consider a combination of louvers with panel, tongue & groove and bead board.