| | |
| --- | --- |
| 800.494.4321 | Kestrel Louvered Door Applications |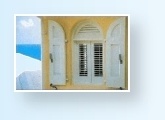 Home
Closet Doors
Interior Doors
Door Styles
Louvered Doors

Interior Door Hinges
Exterior Shutters
Interior Shutters

Contact Us
800.494.4321

Custom Sized
Louvered Doors!




---
Some blog posts
you may find helpful
Stave Core Doors & Shutters
Should I go with bifold or sliding closet doors?
Do I need a Bottom Track for my closet door hardware?
Choosing a Closet Door Style

Applications
Closet Doors - Louvered doors are well suited to closets as they help provide ventilation so that your clothes and stored items do not become musty.


Cabinet Doors - Louvered cabinet doors will give your kitchen a whole new look while providing the much needed ventialtion required by some appliances like wine coolers and small storage refridgerators.


Bathroom Doors - We offer doors both with true louvers, that allow air flow, as well as false louvers that give the look of louvers but provides privacy. Where a high humidity is a concern we can build your doors out of Sapele Mahogany.


Interior Doors - Louvered interior doors can allow free air flow through out your home resulting in better distribution during heating and cooling. For those areas where you need to regulate the air flow you canuse our operable louvered doors.


Cabana Doors - For exterior applications where you need ventilation, such as cabanas, outdoor showers and changing rooms we offer louvered doors built from Sapele Mahognay.


Wardrobe Doors - Retrofit that old wardrobe or book shelf with a new pair of Kestrel louvered Doors and give your room a whole new look.


Shower Stall Doors - Whether it is a bathroom shower or an outdoor shower a louvered door will help reduce moisture buildup. We offer our shower stall doors made in either Sapele Mahogany.


Utility Room Doors - Certain appliances, such as furnaces and wine coolers, require a minimum amount of airflow. If this air flow is not met the motor can overheat and fail. Just let us know your requirements and we will suggest the louvered door designs that will meet your needs.


Louver Inserts - Do you have an existing door that you wish had louvers? Do you manufacture doors? Over the years we have provided our customers with operable louver, as well as fixed louver, inserts. These are made to fit within your existing frames and can be shipped assembled or in our exclusive D.I.Y. kits.