| | |
| --- | --- |
| 800.494.4321 | Fixed Plantation Exterior Shutters |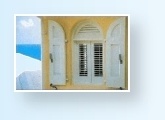 Home
Exterior Shutters
Interior Shutters
Measuring for Shutters
Shutter Hardware
Closet Doors
Interior Doors

Contact Us
800.494.4321

Custom Sized
Plantation Shutters!




---
Some blog posts
you may find helpful
How to choose a wood shutter
What size Louver blade should you use?
Choosing the Correct Hinges for your Exterior Shutters

Plantation louvers are larger and spaced farther apart than traditional louvers. This helps keep these exterior shutters from looking "too busy" which can happen with smaller tradtitional louvers.
Shutter Style :
AKE 2010
Fixed Louvered Exterior Plantation Shutters
Material :
Sapele Mahogany
Location :
Charleston, WV
Custom Sized to your specifications
Standard wood species used are Sapele Mahogany and Basswood
Available as both Exterior Shutters and Interior Shutters
Made by Kestrel Shutters and Doors